Cuando un evento cumple 50 ediciones, es porque algo ha salido bien.
Algo imposible de determinar con exactitud lo hace perdurar en el tiempo a pesar de contratiempos y decepciones, de viento y marea. Algo lo rodea de un halo especial de encanto para que, aun cuando nada es fácil, siga en pie.
El polo de Sotogrande sobrevivió a pestes equinas, a crisis económicas, a gestiones diversas, a cambios generacionales y urbanísticos y recientemente a una pandemia.
Tratando de saber qué ha hecho que la Copa de Oro de Sotogrande cumpla 50 años, me encontré con quienes lo adjudican al clima de este lugar, que permite jugar todos los días del mes sin postergar partidos ni mirar al cielo porque el buen tiempo está garantizado.
Hay quienes, en cambio, creen que el mérito es del sitio que lo acoge, Sotogrande, con sus dos aeropuertos cercanos, con el mar lindante, con hospedaje de calidad, con más de doce canchas de polo en la actualidad que resisten actividad todos los días y a toda hora.
Otros lo atribuyen a la generosidad de las familias que lo iniciaron, con el único fin de ver crecer ese espectáculo sustentados en la pasión por la práctica del deporte y por alimentar ese germen en hijos y nietos que crecían en un entorno sano, estimulante, divertido y seguro.
Muchos piensan que la Copa de Oro y el polo de Sotogrande perdura porque es un buen espectáculo, porque agosto solo se entiende con el ruido del galope, con el relato vibrando en el micrófono, con gritos de gol, chukkers, handicaps, líneas, penales, caballos, mimbres, tacos, bochas, banderas, goles y goles de oro, como la copa que cumple los cincuenta.
Se busca la receta para repetirla en cualquier lugar del mundo: ¿Qué ha hecho que este torneo haya llegado hasta aquí y prometa seguir?
¿Qué lo ha hecho perdurar en el tiempo? ¿Por qué mientras en algunos sitios el polo se extingue o desaparece, en Sotogrande siempre encuentra un tanque de oxígeno que le permite seguir vivo?
Caminando por la cancha se encuentran respuestas: chicos que juegan al polo con tacos en versión minúscula, otros que juegan, no al polo, solo juegan. Gente que charla, que se toma una copa, que se arregla todas las tardes después de la playa para ir a la cancha. Gente que va de tiendas al polo, otra que se reencuentra y se abraza y que elige el césped o el techo de una camioneta para ver el partido mientras toma un mate. Mujeres bellas que conversan ajenas a todo. Caballos para conocer, ver y tocar. Torneos de chicos, que ahora también son de hijos y padres, porque aquellos chicos que lo jugaban hace años tuvieron hijos y quieren estar en el campo con ellos.
Se ve gente que grita con pasión jugadas y otros que no las miran porque no hace falta: alcanza con estar ahí. Es ser parte de la historia. Es poder contarle a tus nietos que has estado en el polo de Sotogrande porque, tal vez, alguno de ellos, se ocupará de que siga vivo.
El polo de Sotogrande perdura porque todos así lo quieren: porque algunos lo sustentan, porque otros lo disfrutan, porque sigue regalando tardes de gloria, porque hay dónde, hay quiénes, hay sol, canchas, pasión, gente de brazos abiertos como en toda España, que quiere que venga gente de todas partes, a seguir sumando años de polo.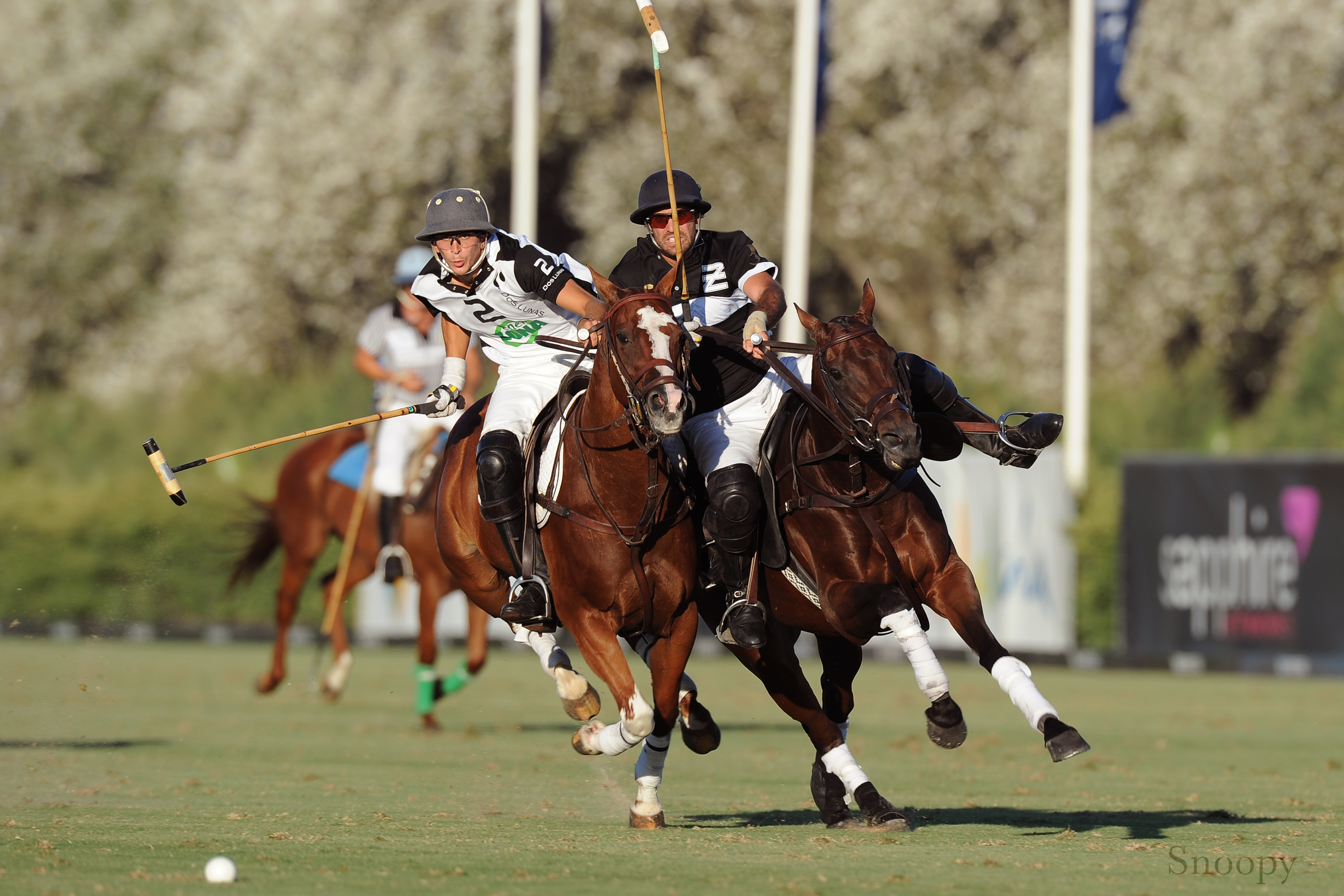 50 wonderful years of polo in Sotogrande
When an event turns 50, it is because something has gone well.
Something impossible to determine exactly what makes it last in time despite setbacks and disappointments, through thick and thin. Something surrounds it with a special halo of charm so that, even when nothing is easy, it will remain standing.
The Sotogrande hub survived African horse sickness, economic crises, various administrations, generational and urban changes and recently a pandemic.
Trying to find out what has made the Sotogrande Gold Cup turn 50, I found those who attribute it to the climate of this place, which allows you to play every day of the month without postponing games or looking at the sky because good weather is guaranteed.
There are those who, on the other hand, believe that the merit goes to the place that welcomes it, Sotogrande, with its two nearby airports, with the adjoining sea, with quality accommodation, with more than twelve polo fields at present that resist activity all the days and at all hours.
Others attribute it to the generosity of the families that started it, with the sole purpose of seeing that show grow supported by the passion for the practice of sport and for feeding that germ in children and grandchildren who grew up in a healthy, stimulating, fun environment. and sure.
Many think that the Gold Cup and Sotogrande polo endures because it is a good show because August can only be understood with the noise of the gallop, with the story vibrating on the microphone, with shouts of goal, chukkers, handicaps, lines, penalties, horses, wickers, cleats, bowls, flags, goals and gold goals, like the cup that turns fifty.
The recipe is sought to repeat it anywhere in the world: What has made this tournament come this far and promises to continue?
What has made it last over time? Why is it that while in some places the pole is extinguished or disappears, in Sotogrande it always finds an oxygen tank that allows it to stay alive?
Walking down the field, there are answers: boys who play polo with tiny tacos, others who play, not polo, they just play. People who chat, have a drink, get ready every afternoon after the beach to go to the field. People who go from shops to polo, others who meet again and embrace each other and who choose the grass or the roof of a truck to watch the game while drinking a mate. Beautiful women who talk oblivious to everything. Horses to meet, see and touch. Boys' tournaments, which are now also for children and parents, because those boys who played it years ago had children and want to be on the field with them.
You see people who passionately shout plays and others who do not look at them because they do not have to: it is enough to be there. It is to be part of history. It is being able to tell your grandchildren that you have been to the Sotogrande polo because, perhaps, one of them will make sure that it is still alive.
Sotogrande polo endures because everyone wants it that way: because some support it, because others enjoy it, because it continues to give away afternoons of glory because there are where there are who, there is sun, fields, passion, people with open arms as in all of Spain, who wants people to come from all over, to continue adding years of polo.